I've been a blog stalker since this summer and created this blog during the same time. I haven't updated it since the beginning of school...hmm, I think that might be on my goal list! I love all of the linky parties that I see so I thought this one might get me back in the swing of things and maybe encourage me to blog more. I don't know if I'll do this right, but I'll give it a shot! : )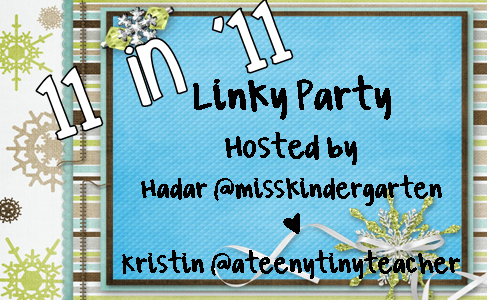 11. Favorite movie you watched
This is a tough one but I think my favorite was The Rise of The Planet of the Apes. I love some James Franco. In fact, we named our dog Franco after seeing him in 127 hours. My husband has definitely impacted my movie selection lately- the other contenders were Captain America, Thor, and Bridesmaids.
10. Favorite TV Series
It's a definite tie- Parenthood (I look forward to Tuesday nights more than any other because of this show!) and The Walking Dead. It's embarrassing how quickly we've gotten through this show but it's so addictive.

9. Favorite Restaurant
Hmm...we're not real big on going out to eat at fancy restaurants but a favorite is Chipotle. The burrito bowl is my food of choice, as long as they don't cover the entire bowl with 1/2 sour cream!
8. Favorite new thing you tried
Once I got on Pinterest I developed an obsession...with yarn wreaths! I never cared about having wreaths before but I just couldn't stand how cute they were, I had to start making my own! I've made quite a few since then and even sold some as Christmas gifts this year. Thinking about starting up my own Etsy store. Teachers could always use some extra income, right?
7. Favorite gift you received
I just got married this summer and my parents took care of our honeymoon for us and sent us to Cancun. They wouldn't tell us where (even after a lot of pleading) until the reception. It was a lot of fun, but we both decided we're never going back to Mexico. We both ended up very sick and I even had an ER visit. Advice- don't drink the water OR have any drinks with ice in it.
6. Favorite thing you pinned
I think it'd have to go with the first yarn wreath I saw. Here's the link to my boards- http://pinterest.com/elisabethu/
5. Favorite blog post
Well since this is only my 4th post in 6 months, I'd have to go with my visual trackers post. I looked at everyones Top 3 posts and looked at my only 3 posts and this one had the most with 77 views. Gotta start somewhere! : )
4. Favorite accomplishment
We adopted a miniature pinscher earlier on this year. He was abandoned at an animal hospital that my brother's fiancee worked at. He was clearly abused and was very afraid of people. When people would bend down to pet him he'd go cower under the table. Just recently we had some friends over and Franco was going up to people and letting them pet him. It may not seem like a lot but he's showed SO much progress. Definitely proud of our little guy. Here's a picture I took of Franco on Christmas morning with his new shirt. He's such a tough guy. ; )
3. Favorite picture
So many to choose from. This is one of my favorite pictures from our wedding. After we lit the unity candle we had a minute or two together while my maid of honor was singing a beautiful song. I remember being up there and just talking about how excited we were that this was finally happening and not even worrying about the hundreds of people watching us. It was a good moment. : )
2. Favorite memory
The highlight of the year was definitely the wedding. It was perfect and I loved every minute of it. On Christmas Eve my brother got engaged so I'm super excited for another upcoming wedding!!
1. Goal for 2012
Personal life: Manage my diabetes better. I'm trying to take steps towards this but sometimes insurance companies have to help out as well! Cutting down on how many times I check my blood sugar (my poor little fingers!).
Teaching: I've been so inspired by all these teaching blogs that I want to create more of my own materials for work stations. I want to make them meaningful and create a better rotation to make sure all students are getting to them!
Hopefully this will encourage me to start posting more often. Lord knows I'm on here enough as it is, might as well try to contribute in whatever way I can! Hope you all enjoy the rest of your break! : )